Tuesday, August 6th, 2013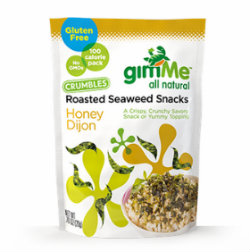 Sometimes snack time can get so boring. The same-old, same-old day after day. I always try to reach for a healthy afternoon snack – but fruit, veggie sticks, and air-popped popcorn can get so boring.
That is why I loved finding GimMe Roasted Seaweed Snacks.
At first I was shocked to see the words "seaweed" and "snack" together. Don't get me wrong, I like my seaweed, but historically I have enjoyed it wrapped, rolled and layered around my sushi. But after trying GimMe Seaweed Snacks the words seafood & snacks have been joined together better than peanut butter & jelly or salt & pepper.
Made from seaweed that is grown in an agriculturally protected region of the Yellow Sea, GimMe's seaweed is gluten-free, USDA certified organic and verified Non GMO. And after checking out the GimMe website I learned that seaweed (which is a vegetable… who would have known?) is loaded with nutritional value and has the highest density of vitamins and minerals of any vegetable on the planet. Good stuff!
The two products that GimMe makes are Roasted Seaweed Crumbles and Sheets. Both are loaded with vitamins and minerals, and are low in calories.
Roasted until nice & crispy, the Crumbles, which come in three tasty flavors (Cheddar Cheese, Sesame and Honey Dijon) are perfect atop a salad, or sprinkled on vegetables or baked fish; while the Sheets (that come in Sea Salt & Sesame) are great for snacking.
All these tasty & healthy reasons are why I am so thrilled that gluten-free GimMe Seaweed Snacks is this Win-It-Wednesday sponsor on BeFreeForMe.com.
A total of two (2) BeFreeForMe members will be selected to win a prize exclusive for this contest on BeFreeForMe. This prize pack includes a tote-bag packed with an assortment of GimMe Seaweed Snack products.  One winner will be randomly selected from the entries received before Tuesday, August 13, 2013 at 11:59 PM EST, and one more winners will be randomly selected to win from the entries received between Wednesday, August 14 and Tuesday, August 20, 2013 at 11:59 PM. SO – make sure you enter to win two times!
How can you win?
Easy?
Reply to this blog and let us know which flavor of the Crumbles or Sheets sounds best to you… the Sea Salt, Cheddar Cheese, Sesame, or Honey Dijon.
Good luck, remember to snack on those vegetables (and yes, that does includes seaweed!) … and as always,
Be Free!
Keep in touch and join me in following GimMe Seafood Snacks on Facebook!