Tuesday, October 1st, 2013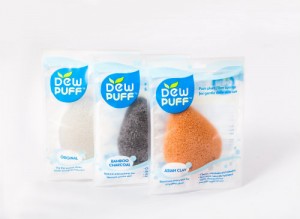 So many facial cleansers and body washes contain gluten and other allergens.  That is why I was so excited to discover Dew Puffs –  a face and body cleansing sponge that are 100% plant based. These gently exfoliating sponges are made with konjac root – which has been used for hundreds of years in Japan for its cleansing properties, as well as being a key to obtaining beautiful skin.
When you moisten a Dew Puff sponge and use it on the skin the result is exceptionally soft, clean and fresh feeling skin. Just add water, and the Dew Puff becomes soft & pliable and ready to use. No fuss. No hassle. Just a pure and simple and totally natural must-have beauty product.
I've been using the Dew Puff twice daily, and I love the way it makes my face feels after washing.  Dew Puffs thoroughly cleans the skin while gently exfoliating, and is far better than using just my hands or a face cloth. Using these sponges makes my skin feel refreshed without drying. They even soothe sunburned and irritated skin.
I also love that these sponges are economical and if used twice daily will last for three months. Another added bonus? They are absolutely perfect for traveling… since they are cleansing sponges you don't have to worry about any carry-on liquid restrictions!
The Dew Puff Cleansing Sponges are also gently enough for baby's skin and are 100% chemical free and contain no preservatives. And for all of us with celiac disease or food allergies, Dew Puffs are perfect for any type of skin irritation caused by Dermatitis Herpetiformis, eczema or any other type of allergy.
Dew Puffs also comes in three varieties…  perfect for many types of skin: The Original Dew Puff, that can be used just moistened with water or with your favorite cleanser; Bamboo Charcoal, perfect for blemish prone skin, since it contains activated carbon and minerals to help prevent breakouts, plus antioxidants to fight acne-causing bacteria; and Asian Clay, which helps stimulate skin cells while absorbing impurities below the pore level, resulting in a healthy glow, while providing all the ancient benefits of clay.
All of these refreshing, pure and natural reasons are why I am so excited that Dew Puff Face & Body Cleansing Sponges are the sponsor of this Win-It-Wednesday on BeFreeForMe.com!
Four (Yes, 4!) winners will each receive a prize pack containing three Dew Puffs (one of each of the Original, Bamboo Charcoal, and the Asian Clay). Two (2) of the winners will be randomly selected from all comments / entries received before Tuesday, October 8, 2013 at 11:59 PM (EST), and two (2) more winners will be selected from all comments / entries received between Wednesday, October 9, 2013 at 12:00 AM (EST) and Tuesday, October 15, 2013 at 11:59 PM (EST).
How can you win?
Easy!
Reply to this blog and tell us what which Dew Puff (the Original, Bamboo Charcoal, or Ancient Clay) you would like to try the most? (Me? I really love the Ancient Clay!)
Good luck, always remember to be gentle, pure, refreshing, and beautifully you … and as always…
Be Free!
P.S. Join me and follow Dew Puffs on Facebook for more offers, news and contests!