Thursday, August 9th, 2012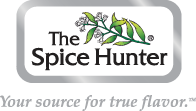 We're really going to spice things up a bit for this week's Friday Favorite. Being grilling season and all, I love to shake up my ho-hum grilling every once in awhile and season up my chicken, meat and veggie's with a little spicy love.
That is when I go for my collection of The Spice Hunter Seasonings.
The Spice Hunter spices and spice blends are gluten-free (with the one exception of Grill Shakers Rib Seasoning) so the varieties to try are endless.
Some of my favorite spice blends for the BBQ are the Salt-Free Varieties and include the Cowboy BBQ Rub, Jamaican Jerk Blend and the Mesquite Seasoning blend. These blends are all natural, kosher and contain no MSG or preservatives. Using these flavorful and zesty spice blends adds a zip to your food with no salt at all! An added bonus: Using spices is healthy way to add flavor to foods without adding extra fat or calories.
Spice Hunter Seasonings is awarded this week's Friday Favorite on BeFreeForMe because they add a spicy kick, as well as a sassy & sensational flavor to any barbeque… all without adding any extra fat or calories. Congratulations!
Want to Buy? Check out these links on Amazon.com:
Jamaican Jerk Blend