Monday, July 9th, 2012
For years I've been craving Strawberry Shortcake. The little foamy yellow cake cup. The sliced sweet strawberries. The freshly whipped cream.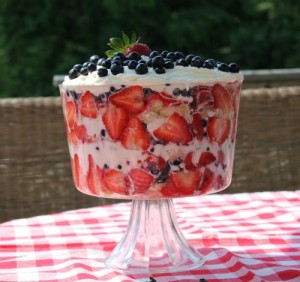 But being gluten-free makes the traditional Strawberry Shortcake come up, well, short.
Not being able to enjoy that little foamy cake cup saturated with the juices of the sweet strawberries makes this favorite dessert not the same at all.
But who needs traditional shortcake when you can layer all the yummy ingredients in a tall trifle bowl?
The result is free-form Strawberry Shortcake that is full of fresh strawberries, blueberries, gluten-free cake sweetened with just enough strawberry juices, and fresh whipped cream. It's a visibly appealing dessert that will have your family and friends oohing and aahing… and not even knowing it's gluten-free.
Strawberry Tall-Cake
1 package gluten-free vanilla cake mix
The Berries: 1 quart fresh strawberries and 1 pint fresh blueberries
3½  tablespoons sugar, separated
3 tablespoons water
1 quart whipping cream
2 teaspoons vanilla extract
Prepare the cake according to package directions (I used Bob's Red Mill Vanilla Gluten-Free Cake Mix for this recipe and photo, but you can use any brand). Once done let cool completely.
When the cake is baking, wash and hull strawberries (leaving one perfect large strawberry aside for garnish). Slice the strawberries into slices and place into a large bowl.  Sprinkle with 2 tablespoons of sugar and the water, and blend. Wash and stem the blueberries and set aside.
Pour the whipping cream into a large bowl, add the last 1½ tablespoon of sugar and the vanilla extract. Beat with an electric blender until stiff peaks form. Set aside.
Rip apart the cake into 2-2 ½" chunks. Place several chunks of cake in the bottom of the trifle dish. Top with the strawberry slices, a sprinkle of blueberries and then some whipped cream. Repeat process until the layers reach the top of the trifle dish. End with a layer of whipped cream and top with a sprinkle of blueberries and that one one large perfect strawberry.
Refrigerate until ready to serve. Enjoy!
Serves 8-12.