Sunday, August 15th, 2010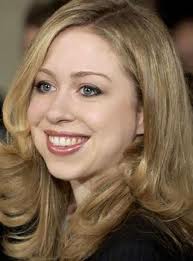 Without a doubt Chelsea Clinton's July 31st wedding will be dubbed the event of the year, if not the century.
The wedding was picture-perfect: The bride's Vera Wang wedding ensemble, and the Oscar de la Renta dress worn by Hillary; the swanky Rhinebeck, New York venue, Astor Courts Estates, which hosted the 500-plus guests; and the absolutely perfect weather for the estimated $3 to $5 million dollar extravaganza, which ultimately proved to me the Weather Gods absolutely, positively, and without a single-doubt have to be Democrats.
Chelsea made some fabulous choices when planning the details of her wedding, but what really caught my eye, and I'm sure had millions of others across the globe pining to find out more, was the gluten-free wedding cake.
From the bottom of my celiac-heart, thank you, Mrs. Mezvinsky.  (That's Chelsea for those of you that didn't know her married name).
With Chelsea saying "I Do" to a gluten-free wedding cake, she brought world-wide recognition to the gluten-free diet. The world has been abuzz with this wedding, and having a gluten-free wedding cake being the choice, and in the spotlight, of this former sweetheart of a first-daughter's wedding, is big time for me, and the rest of the gluten-free set.
This 4-foot tall, nine-tiered, vanilla sponge cake layered with dark-chocolate mousse,  made by La Tulipe Desserts in Mount Kisco, New York, has sweetened the concept of being gluten-free. This famous cake has people chatting about the gluten-free diet and celiac disease; how "everyone knows someone with celiac disease";  and most importantly, asking question about the disease, the reason why I and over 3 million other folks, just in the US alone, should be adhering to a gluten-free diet – not by choice, or by fad, but by medical necessity.
I am not exactly sure why Chelsea Clinton-Mezvinsky decided to choose a gluten-free cake on the day she said "I Do", but thanks to her choice of cakes, and the publicity this famous gluten-free cake has garnered, my hope is that those with undiagnosed celiac disease all around the globe will become more aware of the disease, more conscious of the symptoms and have them questioning their doctors that maybe "I Do" have celiac too.
Want to find out more about Chelsea Clinton's Gluten-Free wedding Cake? Check out this links:
Today MSNBC Article
or video
38656063#38656063