Thursday, January 17th, 2013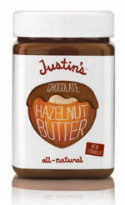 Nuttin's better than a nut butter sandwich! Especially when it is made with Justin's nut butters. Why? Because Justin's takes PB&J sandwiches to a whole new level on the sandwich grading scale. Justin Nut Butters makes the old stand-by PB&J's a sandwich you dream about eating.
They make a PB&J a "want-to" sandwich, not a "have-to" sandwich.
And if you think that PB&J sandwiches are just for kids, think again. Justin's makes nut butters from not only peanuts, but hazelnuts and almonds too. Plus they make yummy flavors. Flavors like Honey Peanut, Chocolate Hazelnut or Maple Almond.
These nut butters are also certified gluten-free, dairy-free and non-GMO and vegan.
All these reasons are why Justin's Nut Butters are awarded this week's Friday Favorite on BeFreeForMe.com. Congratulations!