Tuesday, March 8th, 2016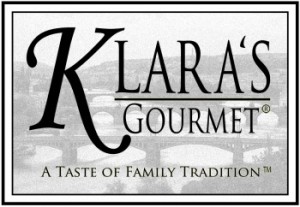 This week's Win-It-Wednesday is keeping the cookie theme going! The prize for this Win-it-Wednesday is Klara's Gourmet Coconut Macaroons… one of my favorite cookies of all time.
I love the soft chewiness of these macaroons. That combined with the coconut and a hint of vanilla & honey make them one of my top, all-time favorite cookies. The result is that Klara's macaroons are just as good as fresh bakery macaroons.
Klara's cookies are also verified Non-GMO.
Along with the Coconut Macaroon's, Klara's Gourmet also makes a great gluten-free Chocolate Macaroon too!
And the story behind Klara's is a good one. If you check out the Klara's Gourmet website, they tell of Klara's story: "Klara Sotonova hails from Chrast, a village of 5,000, two hours southeast of the historic Czech capital city, Prague. At age 19, Klara emigrated to the U.S., with the dream of owning her own business – one that honored her family's long tradition of home-baked, traditional Eastern European sweets.
In 2009, Klara settled her business in the small New England town of Lee, Mass., where she has been sharing her family traditions ever since – with you, her retail customers, and as a wholesaler to grocery stores and specialty retailers around the country. Using natural, organic, non-GMO ingredients wherever possible, Klara's Gourmet brings pure, authentic flavors to her family heirloom of sweets."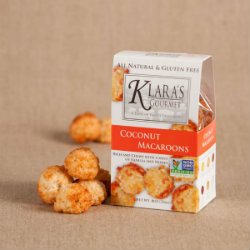 And lucky for all of you I have picked up two extra boxes of Klara's Gourmet Coconut Macaroons for the prizes for this Win-It-Wednesday on BeFreeForMe.com!
One (1) winner will be randomly selected to win a box of Coconut Macaroon cookies from the entries received before Tuesday, March 15, 2016 at 11:59 PM EST, and one (1) more winner will be randomly selected to win from the entries received between Wednesday, March 16 and Tuesday, March 22, 2016 at 11:59PM. SO – make sure you enter two times to win!
How can you win?
Easy!
Reply to this blog and tell us what Klara's Gourmet Gluten Free Macaroon Cookie looks the best to you. Is it the traditional Coconut? Or the Chocolate? (I'm more of a traditional gal and love the good ole' Coconut favorite!)
Good luck, remember that a cookie a day keeps you smiling away, and, as always …
Be Free!