Monday, April 12th, 2010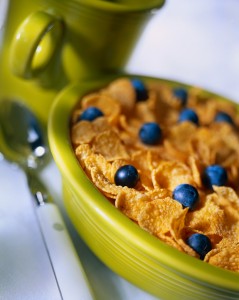 Q: I'm usually running late in the morning so I often skip breakfast. Can you give me some healthy and quick breakfast tips?
A: I'm sure you have heard that breakfast is the most important meal of the day. It literally means break the fast. In order to jump start your day both mentally and physically you need to fuel your body with food. Healthy breakfast foods provide key nutrients such as protein, iron, B vitamins, carbohydrates and fiber. Many traditional breakfast items are made with gluten-containing grains, especially wheat and barley. But not to worry- there are plenty of great gluten-free breakfast options in the chart below.
The chart includes examples of products from various companies. There are many more products available, especially baked items from gluten-free specialty bakeries across North America. The Gluten-Free Diet: A Comprehensive Resource Guide by Shelley Case, RD, features over 3100 gluten-free products listed by company name, product name and package size and a directory of more than 270 American, Canadian and international companies. The book has a chapter on gluten-free specialty bakeries in North America. It also contains detailed information about the gluten-free diet including safe foods/ingredients and those to avoid; meal plans; recipes; cooking hints; substitutions; nutrition information and practical strategies for healthy gluten-free living and resources. See www.glutenfreediet.ca
Breakfast Idea

Item

Companies

Nutrition Facts, Quick Tips & Other Notes

GF cold cereal, milk or yogurt and fresh fruit

Puffed Amaranth

GoGo Quinoa, NuWorld Amaranth, Orgran

Learn more about amaranth at:

http://www.glutenfreeda.com/jun09-good-for-you.asp

Buckwheat Flakes

Arrowhead Mills

For more information about buckwheat see:

http://www.glutenfreeda.com/jul09-good-for-you.asp

GF Corn Flakes

Barbara's, Barkat, El Peto, Erewhon, Nature's Path

Regular corn flakes contain barley malt flavoring which is not gluten-free. It is important to purchase brands such as these ones listed that do not contain barley malt.

GF Rice Crisp Cereal

Arrowhead Mills, Barbara's, Barkat, Erewhon, Kinnikinnick, Nature's Path, Kellogg's GLUTEN-FREE Rice Krispies


GF Granola

Bakery On Main, Enjoy Life*, Udi's, NoNuttin', Glutenfreeda Foods**

* Enriched with vitamins and minerals.

** Made with pure, uncontaminated GF oats.

Multigrain Cereal

Nature's Path Mesa Sunrise

Cornmeal, buckwheat, flax and amaranth.

Puffed Quinoa

GoGo Quinoa

To learn more about quinoa and recipes see:

http://allergicliving.com/columns.asp?copy_id=182

http://www.glutenfreeda.com/mar09-good-for-you.asp

GF hot cereal, milk, dash of cinnamon, brown sugar and sliced fruit

Buckwheat

Birkett Mills (Pocono), Cream of the Crop

Cook hot cereals in the microwave in a large bowl so it does not boil over. Add some ground flax to the hot cereal. Flax is an excellent source of fiber and other nutrients.

Cream of Rice

Amy's Kitchen, Arrowhead Mills, Bob's Red Mill, El Peto, Lundberg

Choose brown rice for more fiber.

GF Oatmeal

Avena Foods (Only Oats), Bob's Red Mill, Cream Hill Estates (Lara's), Gluten-Free Oats, Gifts of Nature, Glutenfreeda Foods, Holly's Oatmeal, Bakery On Main


These companies produce or use pure, uncontaminated GF oats. For more information about the use of oats see:

http://www.befreeforme.com/blog/?p=2119

http://www.glutenfreediet.ca/oats.php

Multigrain Cereal

Bob's Red Mill Mighty Tasty GF Hot Cereal

Whole grain brown rice, corn, sorghum, buckwheat.

Quinoa Flakes

Ancient Harvest, GoGo Quinoa

Teff

Bob's Red Mill, Teff Company

For more information about teff and how to use it see: http://www.glutenfreediet.ca/img/p53Celiac_Expert.pdf

Toasted GF bagel, nut butter (e.g., almond, cashew, peanut) or GF low fat cheese spread or melted cheese and a glass of juice

GF Bagels

Udi's, Gluten-Free Creations Bakery, Glutino, Kinnikinnick, Mariposa Baking Company

Some companies enrich their bagels with vitamins and minerals (e.g., Udi's, Gluten-Free Creations Bakery, Glutino and Kinnikinnick).

GF muffin, milk or GF yogurt drink

GF Muffins

El Peto, Foods By George, Gluten-Free Creations Bakery, Kinnikinnick,

Make your own muffins from scratch ingredients or buy a GF mix. Freeze in individual plastic zipper bags so you always have one ready for breakfast or a snack.

GF toast with nut butter or GF cheese spread

GF Breads

Celiac Specialties Bakery, El Peto, Ener-G Foods, French Meadow Bakery, Food For Life, Glutino, Kinnikinnick, Mariposa Baking Company, Udi's, Rudi's


GF breads taste better toasted. Some breads are enriched with vitamins and minerals (e.g., Ener-G Foods, Gluten-Free Creations, Glutino, Kinnikinnick). Make your own bread from scratch ingredients or buy a GF mix. Here is a recipe for an ancient grains bread using a mixer or bread machine:

http://www.glutenfreeda.com/jun09-good-for-you.asp

Scrambled eggs or an omelet with GF salsa and GF toast

Eggs (fresh or frozen or liquid egg products)

Some frozen or liquid egg products may contain seasonings with hydrolyzed wheat protein which must be avoided on a gluten-free diet. Several brands of salsa contain wheat flour, hydrolyzed wheat protein or barley malt flavoring.

Add chopped peppers (green, orange, red or yellow), green onions and/or broccoli to the scrambled egg or omelet for extra nutrition.

Fruit smoothie with fresh or frozen fruit (e.g., bananas, blueberries, peaches, strawberries), yogurt or milk or non-dairy substitute and honey or other sweetener.

Low or non-fat milk or yogurt

For those with lactose intolerance, a special type of milk that has been treated with lactase enzymes can be substituted for regular milk. Another option is to use a non-dairy substitutes (e.g., almond, potato, rice or soy beverages). Choose brands that do not contain barley malt flavoring. Also look for ones that are enriched with calcium, vitamin D and other nutrients.

For more information about lactose intolerance and suitable products see:

http://www.befreeforme.com/blog/?p=2288

Here's a recipe for Very Berry Breakfast Shake

http://www.befreeforme.com/ViewRecipe.aspx?RecipeID=586

Non-dairy beverage

Blue Diamond, Imagine, Pacific Foods, Silk, So Good, So Nice, Vances
The above information was excerpted from Gluten-Free Diet: A Comprehensive Resource Guide by Shelley Case, RD. See www.glutenfreediet.ca