Tuesday, July 28th, 2009
If you're looking to add a little excitement to your snacking habits give Laurel Hill Tortilla Chips a try.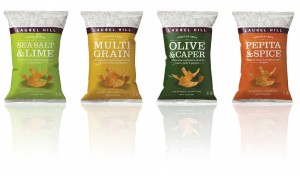 With flavors like Olive & Caper, Multigrain, Sea Salt & Lime, and Pepita & Spice, Laurel Hill Tortillas jumped out at me while strolling down my local grocers snack aisle. The crisp & clean look, as well as the prominent Gluten Free wording right on the front of the packaging had me stopping my shopping cart right in my tracks. 
These tortilla chips are so good I just had to share.
So far I have tried the Olive & Caper and the Sea Salt & Lime varieties. Both are excellent, with tangy and unique flavors. Next up is the Pepita & Spice, which I can't wait to try. 
Laurel Hill Tortilla Chips are not only gluten-free, but nut-free and all natural. The Laurel Hill company is also a family business that spans 3 generations that has been around since 1965.
The Laurel Hill logo is, "Share the pleasure of good food". So, in the spirit of their mantra they are sharing with one LUCKY BeFreeForMe member a mixed case of their tortilla chips.
How do you win?
Easy! Just reply to this blog and tell us how you "share the pleasure of good food" (Me? I get to taste test and monitor BeFreeForMe's recipe section – tough job, I know!).
One random winner will be chosen. All entries must be submitted by Sunday, 08/02/09, by 12:00 midnight EST.
Good Luck… and as always…
Be Free!