Thursday, October 4th, 2012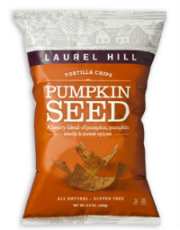 If you're looking for a tortilla chip whose flavor goes above and beyond the ho-hum, look no further. Laurel Hill Pumpkin Seed Tortilla Chips are the chip for you.
I love the sweetness of these chips. They reminded me of crispy thin cinnamon pumpkin wafers. According to the Laurel Hill website, "The flavor comes from the combination of hearty pumpkin puree, nutty roasted pumpkin seeds, and a dash of sweetness from our secret spice blend."
If Autumn had a flavor is would be these chips!
These chips are gluten-free, nut-free and full of deliciousness – which are the reasons that Laurel Hill Pumpkin Tortilla Chips are this week's Friday Favorite on BeFreeForMe.com
Congrats!