Thursday, February 5th, 2015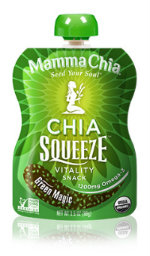 This week's Friday Favorite is a fun snack that is in a portable pack… Mamma Chia's Squeeze.
This squeezable snack is easy to love. This all natural snack is packed with organic chia seeds, fruits & vegetables resulting in a snack pack that is perfect for everyone – of all ages. Chia Squeezes are also packed with fiber, protein and 1200 milligrams of essential Omega-3s. They are also only 70-80 calories per pouch and not only gluten-free, but vegan too.
They come in a variety of flavors including Strawberry Banana, Apple Cinnamon, Mango Coconut, Blackberry Bliss, Wild Raspberry, and my favorite, Green Magic – a magical blend of Chia, Bananas and Mangos, blended with Kale, Spirulina and Chlorella…. Delicious!
All these healthy, tasty and convenient reasons are why this week's Friday Favorite is awarded to Mamma Chia's Chia Squeeze. Congratulations!