Thursday, January 10th, 2013
I've been sticking to my New Year's promise to visit my friend Mr. Gym more often, my long lost friend that I missed all through the holidays.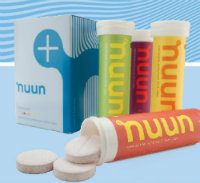 But now… now, we're like old buds once again. Working out day after day. Step after step. Spin after spin. Push-up after push-up.
And when I work out I make sure that I bring along my favorite work-out drink Nuun Active Hydration.
Nuun is an electrolyte enhanced drink tab that I can pop into bottled water for a tasty, drink to keep me hydrated and in tip-top condition during my whole workout. They are the perfect hydration solution for hot yoga classes, spin classes or aerobic activities.
What I love the most about Nuun Active Hydration is that is gluten-free, and has no sugar or carbs. Plus one tab is only 8 calories. My favorite flavors are the Grape, Strawberry Lemonade, Tropical and Fruit Punch,  and  but other flavors include Banana, Orange, Lemon Lime, Kona Cola, Lemon Tea, Tri-Berry, and Citrus Fruit.
Portability, great flavor and hydration, hydration, hydration are all the reasons why this week's Friday Favorite goes to Nuun – my newest workout companion! Congrats!
Want to get Nuun for yourself? Check out this link on Amazon.com and get FREE Super Saving Shipping!
Nuun Hydration Tablets Mixed 4-Pack (Note: 01/10/13 … Nuun 4-pack  is on sale for $17.99… get 'em when they are still on special!)