Tuesday, April 2nd, 2013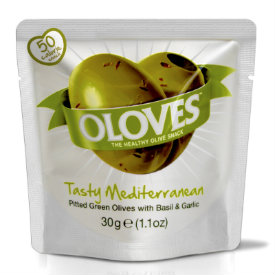 As I am writing this blog post, I am traveling on a JetBlue airplane. It's been a frantic morning of packing, getting to the airport on time, and getting through the crazy security lines at Logan Airport. But finally, the big bird is in the sky… and there is a glimmer of love in my eye. Why, you ask? The answer is one simple word: Oloves.
JetBlue has a gluten-free "meal box" option on their planes. (YES… GLUTEN-FREE!… and also vegetarian and kosher). It is called the "Shape Up" box, and this gluten-free box of snacking goodness contains one of my favorite snacks of all time… Oloves.
Yes. I do have a love affair with olives. When others are grabbing a bag of chips, jelly beans or peanuts I am cracking open a can of olives. That is just how much I love them.
But what is an on-the-go-olive-loving gal to do when she needs an olive-fix on the go? Oloves to the rescue!
I am so excited that Oloves, snack packs of perfectly marinated olives that are the perfect grab and go nibble, is the sponsor of this Win-It-Wednesday on BeFreeForMe.com. And Two (Yes 2!) lucky winners will each win a prize packed with 10 packages of Oloves!
At only 50 calories per pack, these quick, easy, healthy, low calorie and tasty olives are full of flavor and do not contain any of the major allergens, or gluten. They are perfect for travel, lunchboxes, picnics, and an office afternoon snack. No stones, no fuss… Oloves are the perfect gluten-free snack.
I have only tried the Tasty Mediterranean variety, seasoned with basil & garlic, but Oloves also make a Hot Chili Mama, heated up with habanero peppers, and the Lemony Lover, packed with lemon and garlic.
How can you win?
Easy!
Reply to this blog and tell me how you "Share the Love"? (Me? I was at the market yesterday and gave the young cashier who was on her break, and in-line in front of me at the register $2.00 to pay for her muffin when her debit card was refused. Why? Because every time I am in that market she is smiling & friendly).
Good luck, share the love and goodness in your heart, and, as always…
Be Free!
P.S. Not traveling on Jetblue? No worries! Ask your local grocer for them… or you can also find Oloves on Amazon.com. =)