Tuesday, January 8th, 2013
One of my favorite dishes at my local Thai restaurant is a nice simmering gluten-free pot of fresh broth, veggies, chicken and rice noodles.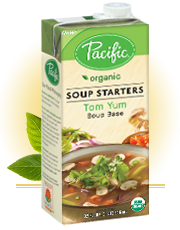 Going out to eat and getting this favorite dish has been a real treat for me because it is one dish that I have no idea how to even start to duplicate at home.
But now things have changed.
Thanks to Pacific Natural Foods and their line of  Soup Starters – including Vietnamese-style Pho, Tortilla, and Thai Tom Yum –  I've been able to create an even better version of my Thai restaurant favorite… right in my very own kitchen.
I love that Pacific Natural Foods has created Soup Starters…  a quick and easy short-cut to once mysterious dishes. No searching for hard-to-find ethnic ingredients and no simmering on the stove for hours. These organic, gluten-free and non-GMO Soup Starters do all the leg work for you – and get you started in creating fast and easy restaurant favorites from scratch.
Today for lunch I created my very own customized Tom Yum Soup for one. It took just 20 minutes to make from start to finish. Pacific Soup Starters also have a resealable container that allows you to use just the amount needed and refrigerate the rest for another meal. No waste. No fuss.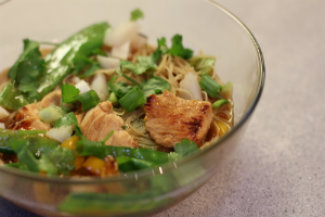 I customized this sweet and spicy soup full of ingredients I love: Grilled chicken cooked up in some Sweet Red Chili Sauce, Vermicelli Rice Noodles, water chestnuts, pea pods and bell peppers – all simmered in the Tom Yum soup base and topped with chopped cilantro and green onions. I t was yummy… AND low-calorie!  For the recipe click here.
By now you all can tell how excited I am that Pacific Natural Foods is this WIN-It-Wednesday's sponsor! =)
A total of four (4) BeFreeForMe members will be selected to win a prize pack that includes one of each of the three varieties of the Soup Starters: Tom Yum, Tortilla, and Pho. Two winner will be randomly selected from the entries received before Tuesday, January 15, 2013 at 11:59 PM EST, and two more winners will be randomly selected to win from the entries received between Wednesday, January 16 and Tuesday, January 22, 2013 at 11:59 PM. SO – make sure you enter to win two times!
How can you win?
Easy?
Reply to this blog and let us know which Pacific Natural Foods Soup Starter sounds the best to you, and if you want…. let us know what ingredients you would use to customize your very own soup pot.
Good luck, remember that sometimes it takes just a little push to get started… and as always,
Be Free!
Keep in touch and join me in following Pacific Natural Foods on Facebook and Twitter!