Tuesday, November 13th, 2012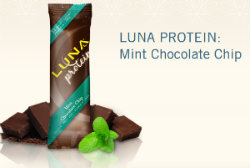 If you're looking for a nutritious, delicious and chocolate-y gluten-free bar that will fill you up –  look no further my friends. The Luna Protein Bar is it.
Unlike many other gluten-free bars, the Luna Protein Bar, is a great snack that is packed with 12 grams of protein which helps curb your appetite and helps you stay full… for longer.
That is why these bars are perfect for a quick snack on the go, or to rid yourself of a rumbling & hungry belly in-between meals. I also love to grab a Luna Protein Bar before I hit the gym – to give me the energy and sustainability to get me through my workout.
Another bonus is the fantastic chocolate flavors that these bars come in, including my favorites Cookie Dough and Mint Chocolate Chip. They also have additional flavors of: Chocolate Peanut Butter, Chocolate, and Chocolate Cherry Almond.
I also love that the Luna Protein Bars contain no GMO's, no additives and are low GI. Luna Protein Bars are also perfect stocking stuffers – the perfect gift to give all the gluten-free folks in your life.
Under 200 calories per bar, packed with protein and gluten-free are all the reasons I am so excited that Luna Protein Bar's are this week's Win-It-Wednesday sponsor on BeFreeForMe.com!
A total of four (4) BeFreeForMe members will be selected to win a prize pack that includes a block (12 bars… Yes! Twelve Bars!) of the Luna Protein Bar flavor of their choice. Two winner will be randomly selected from the entries received before Tuesday, November 20, 2012  at 11:59 PM EST, and two more winners will be randomly selected to win from the entries received between Wednesday, November 21 and Tuesday, November 27 at 11:59 PM. SO – make sure you enter to win two times to win!
How can you win?
Easy?
Reply to this blog and let us know what Luna Protein Bar flavor you'd pick if you are selected as a winner. Also, just keeping in the spirit of Thanksgiving tell us one thing you're thankful for. (Me? The seat warmer in my car on cold New England mornings!)
Good luck, be thankful for the things that are nutritious, delicious, chocolate-y and gluten-free … and as always,
Be Free!
Keep in touch and join me in following Luna Bars on Facebook and Twitter!
Note to Twitter Fans:
Just in time for the Holiday's Luna Bars is sponsoring a Holiday themed Twitterview with gluten free expert and cookbook author Silvana Nardone that is taking place this Thursday, November 15th at 10:30 a.m. PT/1:30 p.m. ET.
In this Twitterview, Silvana and LUNA will share holiday tips and recipes to make sure that everyone has a happy and healthy holiday season as well as take questions from the audience. You can participate and take part in the conversation by tagging tweets with the hashtag #GFHoliday and following @LUNABar and @SilvanaNardone on Twitter.