Thursday, June 14th, 2012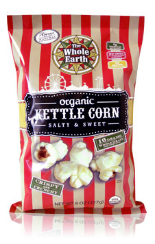 Salty & Sweet. My all time favorite taste combo that there is. There's nothing like the contrast of tasting a sweet smoothness that is awakened by a snappy saltiness.
And The Whole Earth Kettle Corn is the benchmark when it comes to salty & sweet perfection.
The Whole Earth Kettle Corn is made with all natural organic ingredients, has no trans fat or gluten ingredients, is made with non-GMO ingredients, and has 16 grams of whole grain per serving.
So if you're looking for something a little sweet that is punched-up with some saltiness reach for The Whole Earth Organic Kettle Corn.
Congrats to this sweet and salty little snack for being this week's Friday Favorite on BeFreeForMe.com!