Tuesday, June 3rd, 2014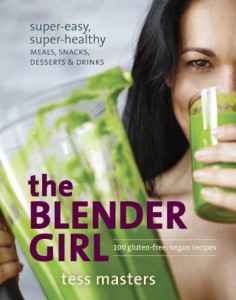 If you're looking to blend, shake and mix things up when it comes to your snacks, meals, salads, soups, appetizers and dessert you need to  check out Tess Masters new cookbook, "The Blender Girl… Super-Easy, Super-Healthy Meals, Snacks, Desserts & Drinks".
After paging through this cookbook and checking out all of Tess's mouth-watering recipes I have to admit I have a brand new respect for my trustworthy blender. Who would have thought that my appliance that normally just sits unused on my kitchen counter could whip up such dishes? Simply amazing! Some of my favorite recipes that Tess has created include: Flourless Triple-Pecan Mousse Pie, Raspberry Lemon Cheesecake Smoothie and Taste Like Ice-Cream Kale. Tess's sense of style and flair is apparent in all of her health conscious recipes… all of which nourish our bodies and get our taste-buds dancing.
Another bonus is that all of Tess's recipes are gluten-free, vegan and rely on natural flavors and sweeteners. Super-easy and super-healthy… just the way I like things!
And while you're at it… check out Tess's website, and follow her on Pinterest, Twitter and Facebook to make sure you catch all of her latest recipes, posts and healthy blending ideas.
All of these fabulous reasons are why I am so excited that Tess Masters the blendaholic behind  "The Blender Girl" Cookbook  is the sponsor of this Win-It-Wednesday contest on BeFreeForMe.com!
How can you win?
Easy!
Reply to this blog and tell us a super-easy thing you do to keep yourself super-healthy. (Me? I can't make up my mind, so here are two things… I park at the furthest end of a parking lot to get a little walk into my day and I substitute avocado for mayo on my gluten-free sandwiches!)
A total of two (Yes… 2!) BeFreeForMe members will be selected to win a copy of "The Blender Girl" Cookbook by Tess Masters. One (1) winner will be randomly selected from the entries received before Tuesday, June 10, 2014 at 11:59 PM EST, and one (1) more winners will be randomly selected to win from the entries received between Wednesday, June 11 and Tuesday, June 17, 2014 at 11:59PM. SO – make sure you enter to win two times!
Good luck, Keep things super-easy & super-healthy… and as always…
Be Free!
Want to buy "The Blender Girl" cookbook? Check out this link on Amazon.com!