Tuesday, October 4th, 2016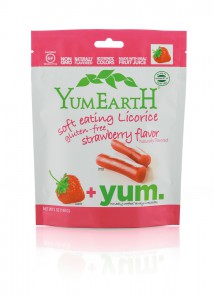 Halloween is almost here! And every time of year around this time I start thinking about my favorite candy. Ever since I was a little girl my favorite candy has been red licorice. But after getting diagnosed with celiac disease I had to forgo my favorite candy since most brands are laced with gluten. That's why I was super thrilled to finally, finally, finally find gluten-free licorice!
If you love licorice as much as I do, you need to try Yum Earth Soft Eating Licorice. Besides the chewy texture and the real fruit juicy burst of strawberries, there is so much more to love about the Yum Earth brand of licorice.
For starters… it's Certified Gluten-Free. On top of that it is vegan, non-GMO, peanut free, contains real fruit juice, is naturally flavored and has no synthetic dyes. Plus… it is soy free, egg free, dairy free and contains no high fructose corn syrup. Wheww! That's a lot of "free of" stuff! (Note: it is also made in a dairy & peanut free facility.)
Yum Earth is the #1 brand that Mom's & Dad's trust when it comes to finding a candy that is free of most allergens. Check out what others are saying about the Yum Earth on their website.
And lucky for all of you there will be two winners of this Win-It-Wednesday. Each of the two winners will receive a bag of the Strawberry soft chewy licorice. What a yummy prize!
One (1) winner will be randomly selected to win from the entries received before Tuesday, October 11, 2016 at 11:59 PM EST, and one (1) more winner will be randomly selected to win from the entries received between Wednesday, October 12 and Tuesday, October 18, 2016 at 11:59PM. SO – make sure you enter two times to win!
How can you win?
Easy!
How can you win? Easy! Reply to this blog and tell us what yummy flavor of the Yum Earth Licorice looks the best to you. Is it the Pomegranate? Peach? Or my favorite, the traditional Strawberry?
Good luck, Keep things yummy, and, as always …
Be Free!
Want to buy now? Check out these links on Amazon.com: