Tuesday, January 5th, 2010

Parties are a reason to celebrate; catch up with old friends, meet new ones; and chat about hot topics and things of common interest. Parties are also a chance to munch on and try new gluten and allergen free foods. Parties are a reason to have fun.
All of these reasons are why I can hardly wait for the Twitter Party sponsored by Glutino Foods coming up this Monday, January 11th from 8-9 PM (EST).
Glutino Foods is hosting this Twitter party, and will have as a special guest, Elisabeth Hasselbeck, co-host of "The View", fellow celiac, and author of "The G-Free Diet". As well as me and BeFreeForMe.com, other sponsors include the folks over at Ian's Natural Foods, that make all natural, organic (plus allergen-free and gluten-free!) meals for kids; and Chad Hines, from GlutenFreeFaces, the gluten-free and celiac social network. (Sound interesting? To join the party RSVP here!)
One of my all-time favorite gluten-free brands, Glutino has delicious products and they make it all… cookies, breads, bagels, pancake mixes, muffin mixes, frozen pizzas and convenient pasta dishes. It's great that I can find Glutino products in most traditional grocery stores too – which makes life so much easier! And, as most of you know, one of my favorite snacks are the gluten-free pretzels that I dip in tangy honey mustard!
And just in time for this Twitter party, Glutino is sponsoring this week's WIN-It-Wednesday on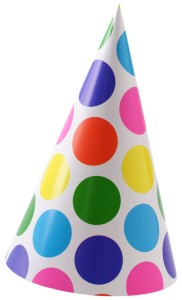 BeFreeForMe.com. They are offering two (yes 2!) LUCKY BeFreeForMe members a Party Pack full of munchies and products to make any party a reason to celebrate.
How Can You Win?
EASY!
Reply to this blog and tell us how you celebrate the little things in life. Also share with us your Twitter login, if you have one, and tell us if you plan on joining Glutino's Twitter Party.  (Me? I SING Happy Birthday to all of my friends on their BIG Day, my Twitter username is @kreale, and yes, I will be at the Twitter party next Monday night!)
Good Luck, Happy Tweeting, and as always…
Be Free!