Friday Favorite: Green Valley Organic Lactose Free Yogurt
This week's Friday Favorite on BeFreeForMe goes to a fantastic new yogurt that I recent discovered… Green Valley Organic Yogurt.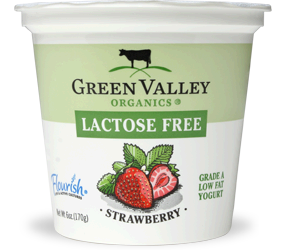 This is the real stuff too… REAL DAIRY yogurt that is lactose-free. Creamy. Rich. Real dairy.
I love all the yogurt  flavors, including Vanilla, Blueberry, Honey, Plain and Peach,  but my favorite is the Strawberry. Creamy, rich and just sweet enough, I found myself scraping the sides and bottom of the cup for more… it was just that good.
This lactose-free, gluten-free yogurt is great for those that are sensitive to lactose, as well as gluten. The yogurt also contains 10 live and active cultures, is probiotic rich, and kosher. I'm loving that it is organic too.
Green Valley Organics also makes other lactose / gluten-free dairy products including kefir and sour cream. YES… REAL SOUR CREAM! =) Creamy, dairy-full sour cream.
No wonder Green Valley's logo is "Peace. Love. Dairy."
I met the folks at Green Valley Organics at a tradeshow last year, and they are a great bunch of great people. They are passionate about the products they make, and are so happy to make  top-notch dairy products that all of us gluten/lactose free  people can enjoy… and love!
For all of these reasons Green Valley Organics gluten and lactose-free rich, creamy dairy products are this week's Friday Favorite on BeFreeForMe.com. Cheers!
Note: Want to buy these lactose and gluten-free products? Check out the "Where To Buy" page on the Green Valley Website.
Tags: Friday Favorite, Gluten-free yogurt, Green Valley organic yogurt, lactose free sour cream, Lactose free yogurt