Tuesday, February 7th, 2012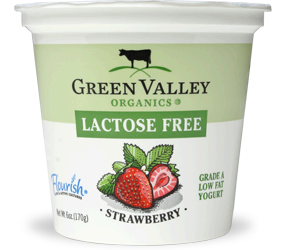 Know how you meet new people and you like them immediately? You feel a connection. You know that you're both on the same page. Care about the same things. And have the same likes, interests and shared missions?
Well, this is the way I felt about the folks from Green Valley Organics when I met them at a large trade show this past year. This woman owned and operated business had a team at their trade show booth that were passionate about what they do, the products they make and the commitment to their consumer. Consumers like you and me… on gluten-free and/or lactose-free diets.
The product? Lactose-free dairy products. Yes folks, REAL DAIRY products that are lactose-free. Creamy. Rich. Real honest to goodness dairy. Because of this passionate team at Green Valley Organics, everyone that is gluten/ lactose free can now peacefully enjoy… and love… top-notch dairy products.
No wonder Green Valley Organics tag line is "Peace. Love. Dairy."
All the Green Valley Organic products are also gluten-free, soy-free, kosher and packed with their own proprietary blend of probiotics.  I love that the products are certified humane and organic too.
Green Valley Organics makes a whole line of products including several varieties of yogurt in 6-ounce cups (Honey, Blueberry, Vanilla, Strawberry, Peach their newest flavor, and Plain) and a  24-ounce family size (Honey, Vanilla and Plain), Sour Cream (YES! Lactose Free Sour Cream! Helloooo Baked Potato) and Kefir (which comes in a Plain variety or the new and yummy Blueberry Pom Acai). My favorite yogurt flavor is the Strawberry… Creamy, rich and just sweet enough, I found myself scraping the sides and bottom of the cup for more. It was just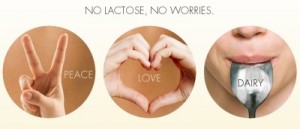 that good. But honestly.. the lactose-free sour cream is to die for. The show stopper. It is rich, creamy – the real deal – but free of lactose. Perfect as a dip, or blended into sauces or soups. And with its Creme Fraiche  sweetness, it is also perfect dolloped over fresh berries for breakfast or dessert.
This is why I was thrilled when I found out that this WIN-It-Wednesday on BeFreeforMe.com was going to be sponsored by the good folks over at Green Valley Organics.
And the prizes are awesome!
A total of FOUR (Yes…4!)  BeFreeForMe members will be selected to win an Insulated eco-friendly tote bag filled with the Green Valley Organics Lactose Free product line of organic yogurts, kefirs and sour cream, a "Peace Love & Dairy" t-shirt and bumper sticker. Two (2) winners will be randomly selected from the entries received before Tuesday, February 14, 2012 at 11:59 PM EST, and two (2) more winner will be randomly selected to win from the entries received between Wednesday, February 15 and Tuesday, February 21, 2012 at 11:59PM. SO – make sure you enter two times to win!
How can you win?
Easy!
Reply to this blog and tell us what Green Valley Organics product (and flavor) sounds the best to you. How easy is that?
Good luck. Peace. Love. Dairy… and as always,
Be Free!
Note: Want to buy these lactose and gluten-free products? Check out the "Where To Buy" page on the Green Valley Organics Website.