Tuesday, August 10th, 2010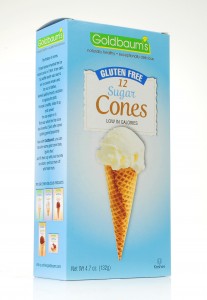 I love ice cream, but since going gluten-free my ice cream lovin' life just hasn't been the same.
There's something about having to eat an ice cream in a cup that just seems too proper. I decided it's the cone that makes ice cream rip-roaring fun. I miss the drips. I miss the mess. I miss the bottom falling out of the cone. I miss licking as fast I can.
I miss my ice cream cones.
That is why I was so very excited to find Goldbaum's Gluten-free, Soy-Free, Dairy-Free, Egg-Free, Nut-Free and Peanut-Free Ice Cream Cones at my local supermarket.
These cones come in four flavors: The sugar cone style that comes in three flavors; Traditional Sugar Cones, Cocoa Sugar Cones and the Jumbo Cones; and also the traditional "cup" style that come in a box of 12 cones, wrapped in two separates packs with 6-cones in each. Me? I put one of the 6-packs in my car, for those swing-into Dairy Queen on a whim type of days, and the other 6-pack in my cupboard for my late night "I Can Eat An Ice Cream Cone So I Am!" type of days.
Hurray to Goldbaum's for making all gluten-free summers more memorable and little sweeter… drips and all.
All these reasons are why I am screaming with joy that Goldbaum's Gluten-free, Soy-Free, Dairy-Free, Egg-Free, Nut-Free and Peanut-Free (did I mention they were made in a nut-free facility?) Ice Cream Cones are this week's WIN-It-Wednesday sponsor on BeFreeForMe.com.
Four  (Yes 4!) Lucky BeFreeForMe members will win a variety of the Goldbaum Ice Cream Cones.
How Can You WIN?
Easy!
Reply to this blog and share your summer pleasure(s). This is an easy one! Mine? Fresh veggies from the garden, bare feet and balmy summer evenings sitting out on my porch… enjoying an ice cream cone – of course!
All entries must be received by Tuesday, August 17, 2010 at 12:00 midnight EST.
Good luck, Take the time to enjoy the little pleasures in life… and, as always…
Be Free!
Interested in buying Goldbaum's Ice Cream Cones? For your convenience, here's the link to buy! Goldbaums Gluten Free Ice Cream Cones 12 Pack