Tuesday, August 21st, 2012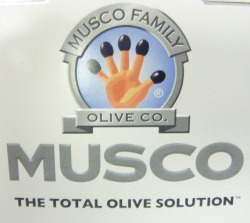 I love, love, love this week's WIN-It-Wednesday sponsor on BeFreeForMe.com – Musco Family Olive Company.
First of all, olives are one of my all time favorite foods. Ask any of my friends. Olives are by far one of my first go-to snacks and also a quick and easy appetizer. What's not to love about a big plate full of olives being shared with friends? No cooking, no grilling, no fussing, no mixing. Just olives. Pure and simply good.
Musco Family Olive Company makes some of the best olives around. No wonder they're the leading supplier of olives in America. Most of us recognize their super-fun logo of a hand with olive-topped fingers – something that my sisters and I use to do with the olives in my Mom's "relish dish" when we were younger (and o.k., I admit, maybe not so younger too!). To add to the story, we thought is was super amusing that we had an Aunt Olive (No lie). Every holiday my sisters and I would vie to ask "Aunt Olive… would like an olive?" To this day we still laugh about that. I'm convinced that the only reason we left some olives in that relish dish was so that we had a chance to offer poor Aunty an olive. =)
Besides bringing back memories, I love Musco Family Pearls and Early California Olives (depending on the store you will find one or the other) because they are gluten-free, all-natural, vegan and kosher. They also have some great recipes on their website.
Musco Family Olive Company offers a wide variety of olives, and just recently came out with two new product lines. The first new line is Fresh Cured Olives that are hand-picked and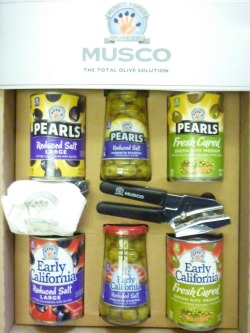 then cured immediately to retain their firm texture & natural color. The second line is a Reduced Salt offering that features pimento stuffed olives, with 75% less salt, and black pitted olives, with 25% less salt, than their traditional counterparts. So many people will benefit from these reduced salt olives.
All these healthy, delicious, and fun reasons are why I am so thrilled that Musco Family Olive Company is this week's Win-It-Wednesday sponsor on BeFreeForMe.com.
And check out the BeFreeForMe Win-It-Wednesday Musco Family Prize Pack! It is AWESOME!  A total of two (2) BeFreeForMe members will be selected to win this Prize Pack that is packaged so pretty and perfect! Each Prize Pack contains the following:
•    1 can Early California Fresh Cured Green Olives
•    1 can Pearls Fresh Cured Green Olives
•    1 can Early California Reduced Salt Black Olives
•    1 can Pearls Reduced Salt Black Olives
•    1 Jar Early California Reduced Salt Pimento Stuffed Olives
•    1 Jar Pearls Reduced Salt Pimento Stuffed Olives
•    1 Musco Family Olive Company can opener
•    Musco Toothpicks and napkins
One winner will be randomly selected from the entries received before Tuesday, August 28, 2012 at 11:59 PM EST, and one more winners will be randomly selected to win from the entries received between Wednesday, August 29 and Tuesday, September 4, 2012 at 11:59 PM. SO – make sure you enter to win two times!
How can you win?
Easy?
Reply to this blog and let us know your favorite way to eat olives or your favorite olive memory. Is it in a recipe? By the handful? Sprinkled over a salad? Did your Mom have a relish dish too? Please let us know! (Another one of my fond olive memories is a Cream Cheese and Olive Sandwich… did anyone else get those as kids?)
Good luck, remember that fun is usually right at your fingertips … and as always,
Be Free!
Keep in touch and follow Musco Family Olive Companies on Facebook!
Facebook.com/EarlyCaliforniaOlives