Thursday, August 18th, 2011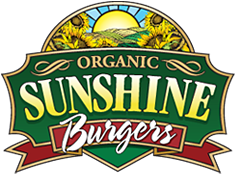 I'm all for a big juicy burger straight from the grill, but recently I've been trying to eat meat-free at least a few times a week. The question is what is a burger-loving gluten-free gal to cook up?
Sunshine Veggie Burgers to the rescue!
I've found that most veggie burgers are packed with gluten. But Sunshine Veggie Burgers are free of gluten, and also contain no soy. Sunshine Burgers also contain sunflower seeds and Lundberg Family Farms brown rice.
My favorite Sunshine Burger is the Southwest variety, but they also come in Original, Garden Herb and Barbecue varieties too. I haven't checked them out yet, but Sunshine Burger also makes a Falafel and a Breakfast patty as well.
No Meat and No Gluten – but tons of flavor are the reasons why this week Friday Favorite is presented to Sunshine Burgers.
Shine on!