Tuesday, March 8th, 2011
Back by popular demand are Yumpeez! Made from certified-organic yellow split peas and cleverly disguised as crunchy flavorful snacks.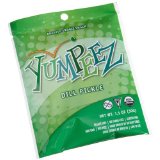 And as a BONUS, we have added two packages of Pulse Flours… a Chickpea Flour and Whole Yellow Bean Flour (35-ounces each package), so you are able to bake-up some of the recipes featured in this week's Ask Shelley Case column on BeFreeForMe, as well as in the new booklet about Pulses which was put out by Pulse Canada.
If you have never tried Yumpeez before, you MUST give them a try! These crunchy gluten-free, nut-free, lactose-free and soy-free snacks have an astonishing yummy flavor, nutritional label and health benefits. High in fiber, protein and iron, they are also a fantastic source of calcium.  Better yet they are trans-fat free, low in fat, and certified vegan.
I also can count on Yumpeez to "hold me over until dinner time" since they are low on the glycemic index, which means they are a complex carbohydrate that also provides energy that sustains. Yumpeez are a new and exciting snack… so if your snack-times are turning into nap-times due to the same old boring gluten and allergen-free snacks that you eat day-in and day-out you need to try Yumpeez.
My favorite flavor is the Dill, but the Barbeque flavor is a winner too. New to the Yumpeez line-up is the new Naked variety (the only ingredient: organic peas) that comes in a new larger shaker container. At only 120 calories per pack, I feel good about reaching for Yumpeez for snacking, especially when Spring is approaching and a low-cal and healthy snack is welcomed. I also like to toss a handful over my lunchtime salad, to give myself a crunchy salad topping, with an added protein energy boost.
Now I know why Yumpeez tagline is "Yumpeez Takes You Into Overtime!".
All these healthy and flavorful reasons is why I am so glad that Yumpeez (and the bonus flours!) are this week's WIN-It-Wednesday sponsor on BeFreeForMe.com. Yumpeez will provide six (Yes….6!) LUCKY BeFreeForMe members a combo-pack of all three of the Yumpeez flavors, plus the bonus Chickpea and Whole Yellow Pea Flours!
How can you WIN?
Easy!
Reply to this blog and tell us how you take yourself into overtime during the hectic work week (Me? I have a cup of green tea and a healthy snack in the afternoons). Three (3) winners will be randomly chosen from entries received before Tuesday, March 15 at 12:00 midnight EST; and three (3) more winners will be randomly chosen from entries received between Wednesday, March 16 and Tuesday, March 22, 2011 at 12:00 midnight EST. All winners must be a member of BeFreeForMe.com.
Good Luck, slow down to enjoy the good things in life and, as always…
Be Free!