Tuesday, November 10th, 2009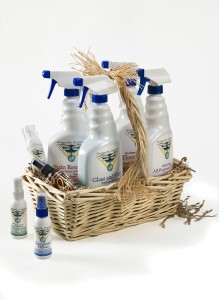 This week's WIN-It-Wednesday's sponsor is Dragonfly Organix, a product that I discovered about a month ago at the Natural Product Expo in Boston. After sampling, munching and tasting my way through the numerous aisles of gluten-free food products, I decided to roll-on over to the non-food aisles of the show to explore and discover any interesting & new products.
After trying the Dragonfly Organiz hand sanitizer, I was hooked. The hand sanitizer has no alcohol, is fast-drying, non-sticky, and leaves my hands feels soft – not dried out – which is very important since I have been washing and sanitizing my hands like crazy over the past few weeks in hopes of keeping any flu or cold at bay!
Along with the hand sanitizer, Dragonfly Organix also makes other personal cleaning items like eye glass cleaner and jewelry cleaner. They also make tons of home cleaning products; like glass cleaner, all-purpose cleaners and stain removers. All their items are all natural and contain no ammonia, phosphates, glycol ether or phthalate.
Better still, Dragonfly Organix plant-derived formulations provide no harmful residue, unpleasant odors or vapors. Likewise, these non-toxic & biodegradable products are a safe way to get some powerful cleaning action that is safe around kids or pets.
Dragonfly Organix is "free of stuff" that none of us needs!
That's why I am most happy to announce that Dragonfly Organix is the sponsor of this week's WIN-It-Wednesday! One lucky BeFreeForMe member is going to win the Dragonfly Organix, "Green your Home" gift basket (a $39.95 value!); which includes:
• Dragonfly Organix Hand Sanitizer – 1.7oz
• Dragonfly Organix Odor Eliminator – 2 oz
• Dragonfly Organix Eyeglass Cleaner -2 oz
• Glitz Jewelry Shiner – 2 oz. (for all that holiday jewelry!)
• Dragonfly Organix Stain Remover – 24 oz
• Dragonfly Organix Glass and Shiny Cleaner – 24 oz
• Dragonfly Organix No-Rinse Floor Cleaner – 24 oz
• Dragonfly Organix All- Purpose Cleaner – 24 oz
How can you WIN?
Easy!
Reply to this blog and tell us how you make the world a better place to live by keeping it greener, cleaner or by recycling. (Me? I always use my reusable shopping bags, and collect rainwater to water my garden).
I am so excited to see all the entries so I can pick-up some more green living tips! All winners will be chosen at random and be a BeFreeForMe.com member. All entries must be received by Sunday, 11/15/09 at midnight EST.
Be grateful of the earth, Be Green… and as always…
Be Free!