Tuesday, October 20th, 2015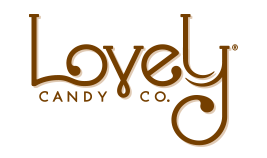 I love caramels! There is nothing like a good caramel melting in your mouth, or a fresh Caramel Apple after a day of apple picking. This time of year, with Halloween right around the corner, has me thinking about all of my favorite types of candy.
Two of my favorites are Caramels and Red Licorice. And I was always sad when I first got diagnosed with Celiac Disease because almost all of caramels and licorice contain gluten (as well as "other stuff" that we don't want either – things like high fructose corn syrup and "fake" flavorings and ingredients).
That is why I was so super thrilled to find the Lovely Candy Company. All their candies are gluten free, kosher, non-GMO, have zero trans fats, and no high fructose corn syrup or artificial ingredients. Plus… they are delicious!
The Lovely Candy Company makes an array of Caramel flavors too. Flavors like Sea Salt, Caramel Apple, Original and Chocolate Swirl. They also make other gluten-free candies including Fruit Chews, Fudgee Rolls and also gluten-free (yes… GLUTEN FREE!) Licorice… both black and red!
All of these reasons are why I am so excited to share with two lucky BeFreeForMe a prize pack of two bags (Sea Salt and Caramel Apple) of Lovely Candy Company Caramels. A total of two (yes, 2!) BeFreeForMe.com members will be randomly selected to win. One (1) winner will be randomly selected from the entries received before Tuesday, October 27, 2015 at 11:59 PM EST, and one (1) more winner will be randomly selected to win from the entries received between Wednesday, October 28 and Tuesday, November 3, 2015 at 11:59PM. SO – make sure you enter two times to win!
How can you win?
Easy!
Reply to this blog and tell us which Lovely Candy Company Caramels look the best to you? Is it the Original? Sea Salt? Caramel Apple? Or the Chocolate Swirl?
Good luck, have a lovely, lovely day… and, as always …
Be Free!
P.S. Join me in following Lovely Candy Company on Facebook, Twitter, Pinterest and Instagram!
Want to buy now? Check out these links for Amazon.com: