Friday, August 3rd, 2012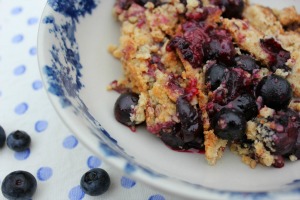 Rushing back to the office one day last week, I caught a glimpse of some wording on a beat up tattered sign on the side of a country road right at my town's edge.
Blueberries. Pick Your Own.
OPEN.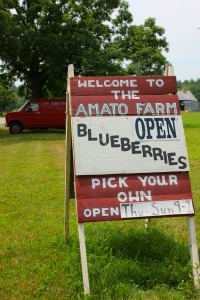 And at that time, all the hurries and hassles of getting back to the office went out to the wild blue yonder.  I realized that the contentment of being a little girl and blueberry picking on a hot summer day with my mom and two sisters in southeastern Massachusetts (read more about that in this blog post) could be renewed from a memory to a reality.
And just like that, out of the blue, my day went from fanatic to fantastic.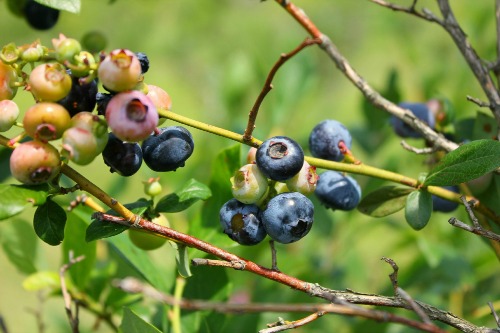 Before I knew it I was out in the blueberry field, picking and plopping, picking and plopping, one glorious berry at a time into my bucket while dreaming of a yummy, quick & easy gluten-free dessert to make for dinner that night.
After all, a girl does need to be rewarded for her efforts once in awhile. =)
While waiting my turn to pay for my bounty (by the way it was an "honor-system" pay system. How honestly cool is that?) I realized I was rested, relaxed, and had accomplished a ton. Well, not exactly a ton – but 2 whole pounds of blueberries.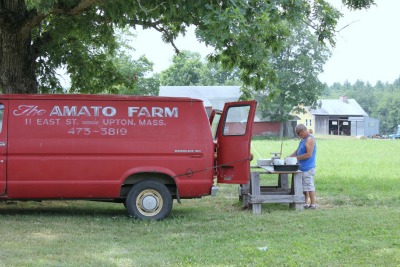 My dessert creation ended up being a Gluten-Free Blueberry Crumble adapted from a recipe I found in my recipe box from years and years ago.
The result: A wonderful ending to an out-of-the-blue absolutely perfect fantastic day.
Enjoy!
Out-of-the-Blue Gluten-Free Blueberry Crumble
Best made with fresh picked blueberries… serve topped with fresh whipped cream or vanilla bean ice cream.
Crumble Crust and Top:
1 cup plain, unsalted almonds
2 cups gluten-free flour blend (like Jule's Gluten-Free Blend, Bob's Red Mill Gluten-Free Flour Blend
or
King Arthur Gluten-Free Multi-Purpose Flour
)
½ cup, plus 1 tablespoons sugar
1 teaspoon cinnamon
¾ cup of chilled butter, cut into small pieces
Filling:
½ cup granulated sugar
1 ½ tablespoons corn starch
1 teaspoon cinnamon
2 pints fresh blueberries – washed, dried and stemmed
Preheat oven to 350 degrees F.
Place the almonds on a cookie sheet and place in the pre-heated oven for about 10 minutes to roast. During the cooking time, toss to turn the nuts.
Remove nuts from the oven and increase the oven temperature to 450 degrees F.
Place the roasted almonds in a food processor or blender. Process the nuts until finely ground (about 10 seconds) being careful not to process too much (or you'll end up with Almond Butter!)
In a large bowl, mix together the ground almonds, gluten-free flour, sugar and the cinnamon. Cut in the chilled butter pieces until crumbly using two forks and / or your fingers.
Using you fingers, press half of the crumbs on the bottom and up the sides of an 8 to 9" tart or pie plate. Set aside.
In a medium bowl, mix together the sugar, cornstarch and cinnamon. Next, very carefully blend in the blueberries, taking care not to smoosh the berries. Evenly spoon the blueberry mixture into the crust.
Sprinkle the top with the remaining crumbles. Bake in the 450 degree F preheated oven for about 25 minutes, watching very carefully the last 5 minutes of cooking time since the edges will brown quickly!
Serve warm with fresh whipped cream or vanilla bean ice cream.