Tuesday, November 4th, 2014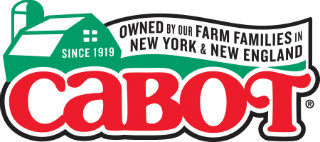 GREAT NEWS for all of you Cabot Cheese lovers out there!  Cabot has a new line of cheeses that taste out of this world (and inspired from different parts of the world!)… the Legacy Cheese line.
This yummy trio of cheeses was inspired by century old cheese-making techniques from different parts of the world… in honor of the European roots of the Cabot farmers' ancestors.  And like all other Cabot cheddars, the cheeses in the new Legacy line are naturally gluten-free and lactose-free.
The Legacy line has three unique and distinctive varieties:
Alpine Cheddar: My personal favorite! A creamy cheddar and nutty Parmesan blend, this cheese has that nutty "crunchy" or slightly granular texture distinctive of cheeses influenced by Swiss & Italian cheese-making traditions. Try one slice and you'll see why this is my new favorite Cabot cheese variety.  A must have for any cheese board…  also pairs well with sweet Italian Prosecco and a few of your best friends!
Farmhouse Reserve: This Artesian grade cheddar cheese is quintessential New England. Aged for 18 months this New England classic is an Extra Sharp cheddar that is bold and creamy, and a must-try. When I eat this cheese I like to "melt" a bit in my mouth… it's like tasting a fine wine… flawlessly balanced, well defined and lush. You haven't tasted cheddar like this before!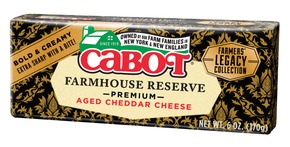 White Oak: A classic British style cheddar, the White Oak cheddar has a subtle caramel sweetness with slight oaky hints. Smooth and composed this cheddar is similar to the Cabot's Clothbound Cheddar with the perfect balance of sharp & smooth. With nutty flavors and aromas, this cheese begs to be used for snacking and in recipes. Oaky & buttery in every bite… What's not to love?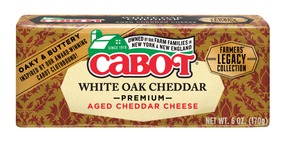 And please feel free to check out the Cabot Creamery website to find some great recipes, discover all of the gluten-free products they offer (please note that all of the Cabot products are gluten-free with the exception of the spreadable cheddars – due to their sourcing they cannot guarantee these spreadable cheddars are gluten-free. However, all other Cabot products and ingredients have been "researched and verified to be gluten-free and are produced in a gluten-free environment" according to the Cabot website).
All these wonderfully cheesy reasons are why I am so excited that the sponsor of this Win-It-Wednesday is Cabot Creamery!
Four (Yes…4!) lucky winners will each win a prize pack of the new Cabot Legacy items. Two (2) winner will be randomly selected from the entries received before Tuesday, November 11, 2014 at 11:59 PM EST, and two (2) more winner will be randomly selected to win from the entries received between Wednesday, November 12 and Tuesday, November 18, 2014 at 11:59PM EST. SO – make sure you enter to win two times!
How can you win?
Easy!
Reply to this blog and tell which new Cabot Legacy cheese looks the best to you… the creamy & nutty Alpine? The flawlessly balanced Farmhouse Reserve? Or the sharp & smooth White Oak? (I know, I know.. it is so hard to pick!)
Good luck, remember to smile and say "CHEESE!" every single day, and as always,
Be Free!
Want to hear more about Cabot Creamery's contests, recipes, new products and more? Make sure you sign up to become a Cabot Insider, and also follow them on Facebook and Twitter!