Tuesday, February 10th, 2015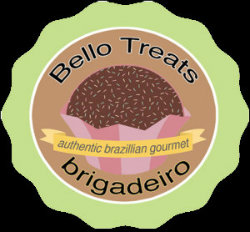 There is nothing better than a Valentine Day gift that is handmade with love. A gift that is overflowing with love and sweetness. A gift that is made from the heart – and it shows.
Bello Treats is a sweet that is perfect for a gift for your sweetie, or even bought for yourself. Perfect for gifting, or even an everyday indulgence, Bello Treats are gluten-free and have no additives, preservatives and contain high-quality, yet simple, all-natural ingredients.
Discovering Bello Treats has been one of my best gluten-free finds in a long time. Handmade with love by Amanda Bellone, these treats originally pop into my gluten-free radar when discovered at my local farmers market.
Amanda is a Brazilian native and created Bello Treats to introduce her beloved authentic Brazilian Brigadeiro. Commonly known as "brigs", Briigadeiros (pronounced: bree-gah-day-ro) are a traditional Brazilian treat that's found at most parties, bakeries and grocery stores in Brazil.
These creamy, silky and soft fudgy treats are to die for! Made with sweetened condensed milk,  a touch of butter, and  Belgium chocolates and other fresh ingredients such as fresh shredded coconut or walnuts, these treats melt in your mouth. Creamy and rich, it's difficult to eat just one.
These delicious treats are true masterpieces. Hand-crafted in small batches, these artesian-style confections are the gourmet answer to satisfy any sweet tooth. My favorite variety is the Happily Married, a soft and creamy milk chocolate and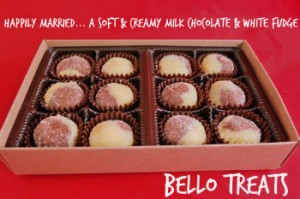 white fudge. But other yummy flavors include the Coconut Kiss, topped with shredded coconut; Almond, topped with shredded almonds; Carnival, a kid's favorite featuring colored chocolate sprinkles; Fun Chocolate Chip, smothered with chocolate chips, and the Traditional Brig, milk chocolate fudge with chocolate sprinkles.
And lucky for us, just in time for Valentine's Day, Bello Snacks is sponsoring this Win-It-Wednesday on BeFreeForMe.com.
A total of two (yes, 2!) BeFreeForMe.com members will be randomly selected to win a prize pack of these oh so delicious treats.  One (1) winner will be randomly selected from the entries received before Tuesday, February 17, 2015 at 11:59 PM EST, and one (1) more winner will be randomly selected to win from the entries received between Wednesday, February 18 and Tuesday, February 24, 2015 at 11:59PM. SO – make sure you enter two times to win!
How can you win?
Easy!
Reply to this blog and tell us what variety of Bello Treats looks the best to you!
Good luck, be sweet… and, as always …
Be Free!