Tuesday, June 28th, 2011
This week's WIN-It-Wednesday on BeFreeForMe is sponsored by one of my all-time favorite products… Chobani Greek Yogurt.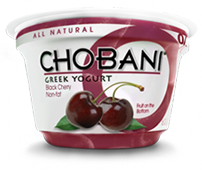 In fact, during last week's visit to the supermarket I learned real quickly that I too wasn't the only one who craved  this 2" tall cup of greek-love. Waiting  for the Dairy Manager to come out with a fresh supply of Chobani, I noticed three other women were waiting too.  Before the Greek God (aka: Dairy Manager) could get the several cases of Chobani Greek yogurt off of  the chariot, ahmmm… I mean the dolly, the other gals and I pounced  before he could even think about placing each little cup of joy on that dairy case shelf.
And that's when it hit me… I guess I'm not the only Greek-Geek around.
Besides being made with all-natural ingredients and real fruit, this yogurt also has no artificial flavors, colors, & preservatives. This gluten-free yogurt is also great for served up with any meal… breakfast, lunch or dinner.
With twice the protein of most other yogurts, I love Chobani Greek vanilla yogurt in the morning blended with my fresh fruit or gluten-free granola. I also like their plain yogurt tossed with chopped grilled chicken (try this instead of using mayonnaise), used as sauces on chicken or burgers (check out the recipes for Turkey Burgers with Chobani Horseradish Sauce – adapt to make gluten-free) or to make Cole Slaw during hot summer weekend.
All these delicious reasons and recipes are why I am thrilled that this week's WIN-It-Wednesday on BeFreeForMe.com is sponsored by Chobani Greek Yogurt.
How can you win?
Easy!
Reply to this blog and tell us the Chobani Greek Yogurt flavor that is your favorite. (Me? I really don't think of myself as a "vanilla type of gal", but I have to say Vanilla all the way when it comes to my Chobani.)
A total of TWO BeFreeForMe members will be selected to win a prize pack containing one FULL CASE customized with the Chobani Yogurt flavors of the winner's choice. (Sorry… Dairy Manager not included).  One (1) winner will be randomly selected from the entries received before Tuesday, July 5, 2011 at 11:59 PM EST, and one (1) more winner will be randomly selected to win from the entries received between Wednesday, July 6 and Tuesday, July 12, 2011 at 11:59PM. SO – make sure you enter to win two times!
Good luck, enter to win and  join me in being a greek geek… and as always…
Be Free!
P.S. If you haven't done so yet, make sure you download your coupons for Chobani Greek Yogurt… and join Chobani on Facebook and Twitter!