Tuesday, October 7th, 2014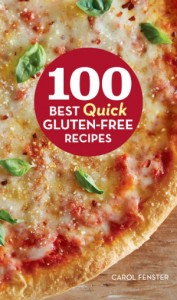 Sometimes eating gluten-free gets me into a rut. It seems like I always rely on my one or two "go-to" recipes when I need a quick and easy meal, snack, dessert or dish to bring to a party. Borrrinnng!
And sometimes when I find gluten-free recipes that look delicious, they are often full of numerous hard to find items and designed for those that have the luxury of spending hours in their kitchen. Not realistic for a working gal like myself.
So… if you're like me… a no-nonsense, give me a yummy recipe that's quick and easy to make type-of-gal… you will LOVE Carol Fenster's newest cookbook, "100 Best Quick Gluten-Free Recipes".
If you're not familiar with Carol Fenster, let me start by introducing her as one of my all-time favorite gluten-free chefs and cookbook authors. She is the author of eleven (YES! ELEVEN!!) gluten-free cookbooks including Gluten-Free 101, and the award-winning 1,000 Gluten-Free Recipes. When it comes to gluten-free baking and cooking, Carol's cookbooks are the best out there.
The "100 Best Quick Gluten-Free Recipes" cookbook is divided into five sections: Breakfast & Breads; Soups, Salads, Sandwiches &Snacks; Grains, Beans, and Pasta; Main Dishes; and Desserts. The cookbook starts by outlining how to stock a gluten-free kitchen (this was a nice refresher even for a seasoned-celiac like myself!) along with ideas for combining the recipes in the cookbook for occasions or themes – such as brunches, luncheons, an Italian feast, or Asian, Southwestern or All-American suppers. I also love that there are plenty of slow-cooker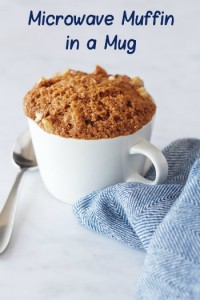 and one-pot recipes – always time-savers in my kitchen.
And the best of all? ALL recipes can be made prepared in 30 minutes or less!
Some of my favorite recipes in Carol's new cookbook are: Chicken Enchiladas; Focaccia Flatbread;  Microwave Muffin in a Mug;  White Chocolate, Apricot, and Almond Balls; and the Chocolate Refrigerator Cookies.
All these quick, easy and delicious reasons are why I am so excited that the sponsor of this Win-It-Wednesday is Carol Fenster and her new cookbook "100 Best Quick Gluten-Free Recipes"!
Two lucky winners will each win a copy of this new cookbook. One (1) winner will be randomly selected from the entries received before Tuesday, October 14, 2014 at 11:59 PM EST, and one (1) more winner will be randomly selected to win from the entries received between Wednesday, October 15 and Tuesday, October 21, 2014 at 11:59PM EST. So – make sure you enter to win two times!
How can you win?
Easy!
Reply to this blog and tell us a gluten-free tip or trick that makes your life more simple (or… if you are new to the gluten-free lifestyle, ask a question on simplifying your life!)
Good luck, always keep things simple, quick and easy… and of course, yummy! And, as always,
Be Free!
Want to buy this cookbook now? Find it here on Amazon.com.  Also, make sure you follow Carol Fenster on Facebook and Twitter!