Tuesday, September 8th, 2009
This week's WIN-It-Wednesday is a re-run of one of the most popular WIN-It-Wednesday's to date! GLEE GUM!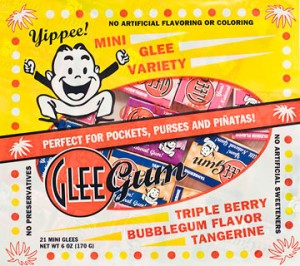 Just like a re-run of your favorite TV show that always puts a smile on your face… this re-run of Glee Gum is bound to do the same!
Glee Gum is full of flavor (They come in six varieties: Tangerine, Triple Berry, Peppermint, Cinnamon, Bubblegum and Spearmint) yet it is free of gluten, dairy, soy and nuts. It also has no preservatives, artificial flavors, artificial colors or artificial sweeteners. Glee Gum is the only gum made the old fashioned way, with chicle, a unique gum base which helps preserve the rainforest, not the synthetic stuff most gums are made with these days. Even the boxes are "green" made from 100% biodegradable, recycled cardboard.
Gum is just fun, and so were the responses that we received the last run of this Glee Gum giveaway.
We simply asked "what little thing made you happy today".  The responses were overwhelming and enlightening.
And every single one of them put a smile on my face. 
How Can You Win?
So once again… in order to WIN, reply to this blog and tell us what little thing made you happy today. (Me? A delicious specially made gluten free dinner waiting for me when I get home from work).
What Will You Win?
We will randomly pick one blog entry to win the following prize: One Mini Glee Variety packs (21 delicious Mini Glee Gum packs in kid-friendly Tangerine, Triple Berry and Bubblegum flavors).  Deadline to enter is Sunday, September 12, 2009 at 12 midnight EST
Be Happy. Be Free… and Good Luck!
NOTE: The folks over at Glee Gum have also offered ALL BeFreeForMe members a Buy One – Get One FREE Coupon for the Glee gum! Click the link to get yours today!