Tuesday, October 6th, 2009
This weeks WIN-It-Wednesday is Jessica's Granola, a great tasting gluten-free granola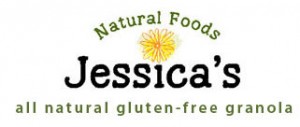 that is made with certified gluten-free oats, other high quality ingredients and lots of passion and love!
I had the chance to meet Jessica at the Gluten Free Culinary Summit that took place in Providence, Rhode Island just over a year ago. Jessica had traveled far from her home state of Michigan to find out more about gluten-free cooking and baking, but she also found many friends there as well. Jessica and I hit it off immediately and since our meeting that September day a year ago, we have been keeping in touch and following each others progress in our business endeavors.
That is why I am thrilled that Jessica, this spirited entrepreneur that manufacturers a phenomenal granola is this week's sponsor of BeFreeForMe's WIN-It-Wednesday.
All granolas are made with no trans fat, cholesterol or preservatives. The product is also made in a designated gluten-free area of a facility using dedicated gluten-free equipment. The oven is brand new and has only been used to bake gluten-free products. There are no wheat, barley or rye flours stored on premise.
Jessica's Granola comes in three varieties: Almond Cherry, for a fruit burst; Vanilla Maple, for a comforting morning lift; and Chocolate Chip for a sweetness that is just as good in the morning as it is for a mid-afternoon snack.
And as a special offer (until 10/31/09) Jessica's Granola is offering a sample pack which contain three 12-ounce bags – one of each flavor! They also have a $5 flat rate shipping for all orders within the contiguous United States.
Jessica's Granola is offering TWO (Yes – 2!) LUCKY BeFreeForMe members a chance to win a choice of any two 12-ounce bags of granola (Flavors of the winners choice!).
How can you win?
Easy!
Reply to this blog and tell us what starts your day with a bounce in your step & smile on your face (Me? Watching Sadie, my incredibly sweet boxer, do her wiggle dance)! Winners must be BeFreeForMe members and all entries must be received by Sunday, October 11th at 12:00 PM midnight EST.
Happy Mornings, and as always!
Be Free!