January 14th, 2014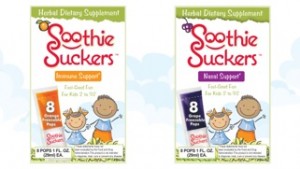 It's that time of year again. Yup… the time of the dreaded sniffles, coughs, chills, runny noses, sore throats and more.  But this year is different because I have decided to tackle the colds that usually run rampant through my household before the first sniffle ever starts.
Welcome… Soothie Suckers!
Soothie Suckers are a great tasting, pre­measured herbal remedies that helps you fight the cold season. They are designed for children, but are perfect for anyone from the age of 2 to 92. Because the formulas are blended especially with children in mind, they use gentle herbs rather than harsh chemicals, over the counter drugs or antibiotics. Soothie Suckers come in two formulas. One helps support the immune system and the other the upper respiratory system, which means they assist in preventing colds… not just relieving the symptoms.
Made by a Mom (Marietta) for her young daughter (Esther), Soothie Suckers are made with the love, caring and understanding that only the best, all-natural ingredients are the way to go when it comes to helping your kids stay, and get, healthy. Soothie Suckers can now be found at select retailers and on-line at Amazon.com and Drugstore.com. (I love it when a woman-owned Mom business thrives!).  Also, make sure that you check out Marietta's Facebook and Twitter accounts for Soothie Suckers!
Soothie Suckers are also free from allergens… including gluten, wheat, soy, peanuts, tree nuts, dairy, eggs, fish and shellfish.

Another thing to love is that these proprietary, all-natural herbal formulas are packaged in kid-friendly ice pop pouches (how fun!) and come in two natural flavors, grape and orange (my favorite!). And take your pick… these pouches can be served frozen, or at room temperature… whatever your fancy.
And remember… although Soothie Suckers are made with kid's in mind, they are perfect for adults too. =)
All these reasons are why I am so excited that Soothie Suckers is the sponsor of this Win-It-Wednesday on BeFreeForMe.com.
Four (yes, 4!) winners will each receive a prize pack of Soothie Suckers. Two (2) of the winners will be randomly selected from all comments / entries received before Tuesday, January 21, 2014 at 11:59 PM (EST), and two (2) more winners will be selected from all comments / entries received between Wednesday, January 22, 2014 at 12:00 AM (EST) and Tuesday, January 28, 2014 at 11:59 PM (EST).
How Can You Win?
Easy!
Reply to this blog and tell us which Soothie Sucker looks the best to you (immune support or upper respiratory support). Also please feel free to share how you make yourself or your family "feel good" when you do get a cold or sniffles (Me? Bundled up in soft, warm blankets with hot tea & honey).
Good luck, keep well and cold free, and, as always…
Be Free!