Thursday, October 10th, 2013
It's autumn, and appley-goodness is popping up everywhere! One of my new favorite finds is Earthbound Farms Apple Crunchers.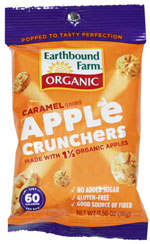 Quick, easy and convenient these crunchy apple snacks are perfect for kids or adults and are great for a snack-on-the-go or lunchboxes.
Made of 100% organic ingredients, these super crunchy snacking bites are made with real organic apples that have been popped to perfection.  They come in three flavors – Original; Cinnamon; and my favorite, Caramel.
These gluten-free snacks have only 60 calories per pack,  are a good source of fiber and have no added sugar. All these appley-good reasons are why this week's Friday Favorite is awarded to Earthbound Farm's Apple Crunchers. Congratulations!