Tuesday, August 20th, 2013

Yes… I am coo-coo for cacao. In fact you could dub me a "Super-Chocoholic" since I am one of those people who will find a way to squeeze  some of this superfood's goodness into my smoothies, snack time and even meal-time too! And if you are a Super-Chocoholic too … this Win-It-Wednesday is for you!
Navitas Naturals, the maker of the finest organic superfoods that increase energy and enhance health, is the sponsor of this Win-It-Wednesday on BeFreeForMe.com.
Navitas makes a whole line of superfood products that are certified organic, non-GMO, gluten-free, kosher, raw and vegan. Some of the products they make are powders for smoothies (can you say "yum" to Pomegranate Powder, Acai Powder or Goji Berry Powder?), dried berries and fruits (you haven't lived until you've tried one of Navitas Dragon Fruit Slices!), trail mixes and snacks.
But, my all-time favorite Navitas products are one's made with cacao. Cacao (often confused with cocoa) is a pure, raw form of chocolate. And I love it. It is packed with magnesium and one of the world's best sources of antioxidants. I love the intense, pure chocolate taste of cacao over processed chocolate.
That's why I am thrilled that for this Win-It-Wednesday, Navitas Naturals has graciously offered the BeFreeForMe Super-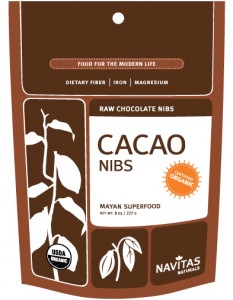 Chocoholics a chance to win a super-duper chocolaty prize pack full of their three most popular superfood cacao products: Cacao Nibs, Cacao Powder and the Cacao Goji Power Snacks.
Two (2) lucky BeFreeForMe members will be the winners of this cacao-licious prize pack! One winner will be randomly selected from all comments / entries received before Tuesday, August 27, 2013 at 11:59 PM (EST), and a second winner will be selected from all comments / entries received between Wednesday, August 28, 2013 at 12:00 AM (EST) and Tuesday, September 3, 2013 at 11:59 PM (EST).
How can you win?
Easy!
Reply to this blog and tell us the superfood product that Navitas Naturals makes that looks the best to you (how easy is that?)! Good luck, remember to be super and remember to be strong… and as always…
Be Free!
Follow Navitas on Facebook and Twitter for news, updates, and special offers!
P.S. Navita's products are also perfect for those that are on the Paleo Diet too.