Thursday, April 12th, 2012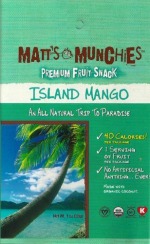 It's awesome when I find healthy snacks that are absolutely, positively, incredibly delicious. But it's true love when the snacks are also low calorie, full of fruit, and contain all-natural ingredients.
That's why it was true love when I tried Matt's Munchies Premium Fruit Snacks.
I've tried a lot of fruit snacks, but Matt's Munchies are different. These snacks are very, very much better in everyway possible. It's almost like Matt's Munchies are the Fruit Snack for the discerning adult (but are loved by kids too). These Fruit Snacks are for the folks that demand more from their fruit snacks than the typical corn-syrup ridden fruit pasted on a piece of plastic wrap.
I love the flavors too… they are exotic and tantalizing… Flavors made for adult taste-buds! Mango Acai; Apple Pie; Chili- Chocolate; Apple-Licious; Ginger Spice; Banana; Mango; Raspberry-Delight; Coco Nana; Tangy Apricot; and my favorite, Island Mango – packed with tiny coconut flakes that add a bit of "texture" and an unexpected burst of flavor.
I also like the way these fruit snacks are portioned into bite-sized squares, rather than rolled-out in one big piece; making snacking easy.
And if it couldn't get any better these fruit snacks are also Certified Gluten-Free, Kosher, USDA Certified Organic (except for the three chocolate flavors), and free of peanuts, soy and preservatives, artificial colorings or flavorings.
These week's BeFreeForMe Friday Favorite honor is bestowed upon Matt's Munchies for creating a truly premium fruit snack… and showing us the way fruit snacks should be!  Congratulations!
Want to buy Matt's Munchies Premium Fruit Snacks? Check them out on Amazon.com and take advantage of the FREE Super-Saver Shipping! Here is the link: Matt's Munchies Premium Fruit Snacks