Monday, August 10th, 2009
Question: I'm always on the run and often end up grabbing chips or a chocolate bar for a snack. Can you help with some quick and nutritious gluten-free snack ideas?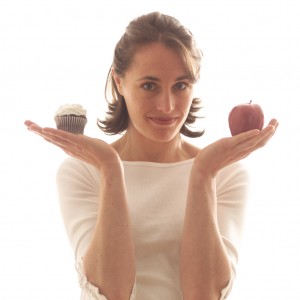 When eating on the run it's not always easy to find safe and healthy gluten-free options. But if you follow the Girl Scout motto – "Be Prepared" and plan ahead, healthy snacking is possible. Make sure your kitchen, car, workplace, briefcase, gym bag or back pack is always stocked with a variety of gluten-free items. With the growing number of gluten-free products on the market today, as well as many naturally gluten-free foods, snacking on the go can be both healthy and enjoyable. Remember to choose snacks from the different food groups- fruits and vegetables; grain products; meat and alternatives; and milk and milk products. Also many snacks can be a combination of several food groups. Here are some ideas…

Fruits and Vegetables
– Fresh or canned fruit (packed in water or fruit juice)
– Dried fruits (apricots, blueberries, cranberries, figs, raisins)
– Fruit or vegetable juices
– Frozen fruit juice bars (store-bought or homemade)
– Veggies and dip (made with yogurt/herbs or low fat GF salad dressing)
– Edamame beans (microwavable single serve)
Grain Products
– GF cereal (e.g., GF Chex, Enjoy Life Perky O's, Glutino Cereal O's) in zip lock bags
– GF muffin (use a GF mix or make from scratch made with a combination of nutritious flours such as almond, bean, brown rice, Montina ™, mesquite, quinoa, sorghum, teff. Include banana, pumpkin, pineapple, carrot, dried fruits and/or nuts)
– Air popped or low fat microwave popcorn
– GF granola (homemade or store bought – e.g., Bakery On Main, Enjoy Life)
Meat and Alternatives
– Nuts
– Cheese string
– Hard boiled egg
– Seeds (pumpkin, sunflower)
– GF deli meat

Milk and Milk Products
– Yogurt (plain or fruit flavored)
– Low fat milk
– Chocolate milk or hot chocolate (check to make sure there is no wheat starch or barley malt flavoring)
– Yogurt drinks
– String cheese or hard cheese
– GF puddings

Food Group Combinations
– Fruit smoothie (fresh, frozen or canned fruit; yogurt, milk or dried milk powder; crushed ice; optional – honey, sugar, or sugar substitute)
– Chex Almond Apple Bars
– Hummus and GF crackers (e.g., Blue Diamond Nut Thins, Mary's Gone Crackers, Edward and Son's Exotic Rice Toast, Glutino Crackers, Ener-G Crackers)
– Low fat cottage cheese or yogurt with fruit
– GF trail mix (e.g., GF Chex cereal, nuts, seeds, dried fruits, GF pretzels)
– GF crackers and nut/seed butters (e.g., almond, cashew, peanut butter, sesame seed, sunflower)
– GF corn tortilla chips, grated low fat cheddar cheese and salsa
– Ants on a log (nut or seed butter on celery with raisins)
– GF snack bars (dried fruits, nuts, seeds, GF cereals) e.g.,  Bumble Bar, Enjoy Life, EnviroKidz Crispy Rice Bars, Glutino, Kind Bars, Larabar, Orgran, PurFit.
– Avocado and Bean Dip with veggies or GF crackers
– GF soups (e.g.,Amy's Kitchen, Health Valley, Imagine, Kettle Cuisine[frozen, microwavable single serve], Orgran soup for cups, Pacific Foods, Taste Adventure)
– GoPicnic shelf stable snack boxes (contain a variety of single serve snacks)
Many of the above ideas are from Gluten-Free Diet: A Comprehensive Resource Guide- Revised and Expanded Edition, Shelley Case, RD, Case Nutrition Consulting Inc, 2008  www.glutenfreediet.ca
Note: Ask Shelley Case is a feature of BeFreeForMe.com. It is published the second Tuesday of each month. Shelley Case is a Registered Dietitian, Consulting Dietitian, Speaker and Author of Gluten-Free Diet: A Comprehensive Resource Guide.