Tuesday, July 1st, 2014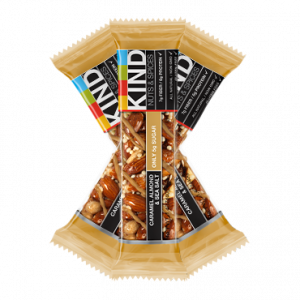 Yes! Yes! YES!!!  KIND Bars has two new flavors to expand their Nuts & Spices line… Plus, three new varieties to their Healthy Grains Clusters line!
If you're in love with KIND Nut & Spice bars because they have the most awesome flavor combinations ever, contain premium all-natural ingredients that you actually pronounce, or have 5 grams of sugar (or less!), you now have yet another reason to crave for and rave about – two delicious new flavors.
The two new flavors KIND has created for their Nuts & Spices line are (drum-roll, please!) Dark Chocolate Mocha Almond and Caramel Almond & Sea Salt.
Joining the first four varieties of the Nuts & Spice lines (includes Dark Chocolate Nuts & Sea Salt, Madagascar Vanilla Almond, Dark Chocolate Cinnamon Pecan, and Cashew Ginger & Spice) these two newcomers will have all of us sweet, savory, nut loving, and even you coffee-crazies begging for more.  The Dark Chocolate Mocha Almond bar is made with dark roasted coffee and whole almonds. It is then blended with honey, before being drizzled with dark chocolate. The Caramel Almond & Sea Salt is touched with sea salt and drizzled caramel over almonds, which creates a sweet and savory bar that leaves you begging for more.
More exciting news from KIND is the new addition to their Healthy Grain Clusters line. Three new varieties have been added to this line of gluten-free granola. The new flavors are: Fruit & Nut Clusters; Raspberry Clusters with Chia Seeds; and, my favorite, Banana Nut Clusters.
All of the varieties of Healthy Grain Clusters are made with a unique blend of 5 super gluten-free grains including gluten free oats, millet, quinoa, amaranth, and buckwheat. Packed with whole grains, essential nutrients and minerals, KIND clusters can be enjoyed snack time, breakfast time, or anytime. I love that the Banana Nut Clusters and the Raspberry Clusters with Chia Seeds are also low in fat and sugar… and taste delicious.
All these wonderful, healthy and tasty reasons are why I am so thrilled that KIND Snacks is this week's Win-It-Wednesday sponsor on BeFreeForMe.com.
A total of two(2) BeFreeForMe members will be selected to win a prize pack of KIND Snacks loaded with 5 bars of each (!) of the new Nuts & Spices Bars (Caramel Almond & Sea Salt AND Dark Chocolate Mocha Almond) and 2 bags EACH of the three new Cluster flavors (Banana Nut Clusters, Fruit & Nut Clusters, and Raspberry Clusters with Chia Seeds).
One winner will be randomly selected from the entries received before Tuesday, July 8, 2014 at 11:59 PM EST, and one more winners will be randomly selected to win from the entries received between Wednesday, July 9 and Tuesday, July 15, 2014 at 11:59 PM. SO – make sure you're a BeFreeForMe member and enter to win two times!
How can you win?
Easy?
Reply to this blog and let us know which new KIND Nut & Spices Bar OR Clusters variety sounds the best to you. And if you want…. let us know something kind that someone has shared / done for you lately. (Me? My sister brought me a huge bouquet of peonies from her garden… just because!)
Good luck, remember to be KIND … and as always,
Be Free!